Birdsboro Access
The Birdsboro Climbing Area is public land owned by Robeson Township and managed by the Birdsboro Municipal Authority. Access and recreational usage is granted to us as a privilege not a right. As the land managers all users are required to observe all posted signs and regulations. The lower Water Reservoir is part of the Borough's drinking water supply. No fishing or swimming is allowed. No deep water soloing is permitted. No fire rings are permitted. Please obey these rules.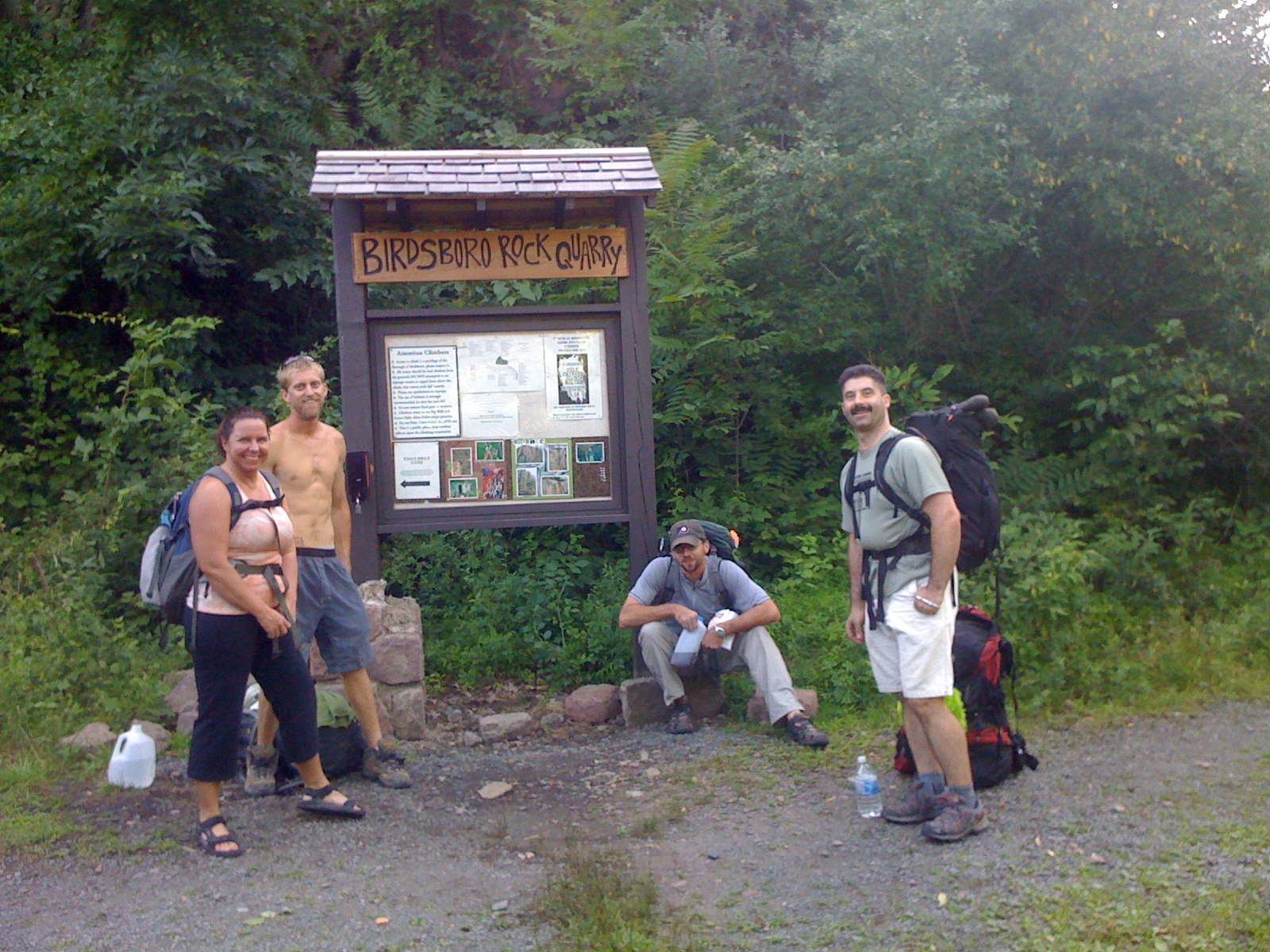 Climbing Area Guidelines
Routes should be lead climbed ground to the top.
Top rope manners: Use quickdraws in top anchors.
Do not rappel or set top ropes above climbs off webbing anchors.
Do not remove fixed protection on climbs.
Do not tamper with or modify existing routes.
Ask the local climbers before establishing new routes.
Top Roping routes should be done using quickdraws, not running
directly through anchors.
Lead climbers have the "right of way" when top rope lines are used for groups.
Please respect each other and allow them to "play through" "on lead".
Pets: Dogs are welcome provided they don't bark obsessively,
don't growl/bark at climbers or other dogs.
Music: respect other climbers – ask before you blast.
Trash: Please carry it all out – organic waste, cigarette butts.
Camping is allowed for events and by request at other times.
Please contact us for more information and permissions about camping.
No Fire Rings are allowed.  This is a Wilderness Area restriction.
Swimming and fishing is prohibited in the reservoirs.
Remember, Climbers are Guests Here! If the Police or Birdsboro employees come out to use the shooting range we must vacate areas 6, 7, 8, 9, 10, 11, and 13 until they are done.
Be safe and have fun!
Waiver of Liability
The activity of climbing (including rappelling or lowering off cliffs) includes, by way of example and not limitation: faulty gear; loose crumbling rock or ice; poorly protected routes; improperly tied knots or tie-ins; improperly buckled harnesses; icefall; rockfall or other falling debris; falling onto a ledge or other protrusion; Inattentive belayers and other bad decision making, by myself or those I am climbing with; and dangerous property conditions. All of these hazards can cause serious injury or death. Entitlement to a rescue if injured is not guranteed, that rescue may not be available and that even if available, rescue attempts may be slow and may fail. There are more hazards than are enumerated here, including unknown and unforeseeable hazards.

I therefore, for myself, my heirs, successors and representatives herby KNOWINGLY AND INTENTIONALLY WAIVE AND RELEASE FROM LIABILITY AND AGREE TO INDEMNIFY, HOLD HARMLESS AND DEFEND the Birdsboro Municipal Authority, their guests, estates, agents and employees and the Borough of Birdsboro, their guests, estates, agents and employees from any and all liability for any and all such damage, injury, paralysis or death to myself or any other person or property. I explicitly agree that this release and indemnification extends to harm resulting from any NEGLIGENCE of these parties as well as any RECKLESS failure of these parties to guard or warn against known dangerous conditions.

I further agree, for myself, my successors, heirs and family NOT TO SUE the Birdsboro Municipal Authority, their guests, estates, agents or employees or the Borough of Birdsboro, their guests, estates, agents or employees, as a result of any injuries I incur in connection with climbing or rappelling on the Birdsboro Municipal Authority's property or in connection with any activities occurring on the property upon which the climbing area is situate.
I ENGAGE IN THE SPORT OF CLIMBING WITH FULL KNOWLEDGE OF THE INHERENT RISKS OF INJURY, OR DEATH THAT MAY RESULT. I AGREE TO CLIMB AT MY OWN RISK.