June 2014 | Venture Crew 5.14 cleans-up Birdsboro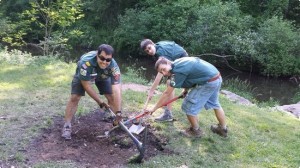 Venture Crew 5.14 was recently featured in the Reading Eagle Newspaper (a local news publication located in Reading, PA) for their community service work at the Birdsboro Climbing Quarry.  The members of this organization spent the day cleaning up unapproved and make shift camp sites and trash in and around the Birdsboro Quarry property as well as practiced the principles of Leave No Trace.  Click here to read the full article.
Venturing Crew 5.14 from Hawk Mountain Council, Boy Scouts of America is sponsored by the Birdsboro Area Climbers Association and meets at the Reading Rocks Climbing Gym on the 1st and 3rd Wednesday each month from 7:00pm to 9:00pm. Each meeting's program varies depending on the program planned by our youth leadership and will frequently include learning and working on climbing skills, outdoor activities, preparing for campouts, working on advancement or other projects.  To learn more about this organization please click here.
June 2014 | Birdsboro Quarry Access Issue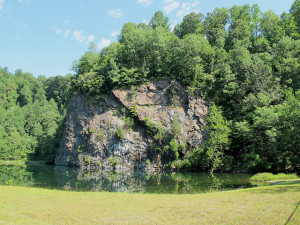 Over the past two months we have had a few disturbing confrontations between members of our climbing community and the Birdsboro Police and Robeson Township officials.   Please note that climbing at Birdsboro is a privilege, not a right.  In fact less than 15 years ago it was illegal to set foot in the reservoir level of the quarry.  If you were found in that area, you could be arrested.  We are fortunate that through hard work and improved relations that we now have access to the full quarry.  With that access, comes an expectation and a standard of behavior.
If the Birdsboro Police are using the shooting range, then you must vacate the entire reservoir level (areas 6, 7, 8, 9, 10, 11, and 13) of the climbing area.  If an official from Birdsboro / Robeson Township asks you to leave the area, then promptly pack up your belongings and leave.  Please be courteous and respectful to anyone doing their job.  In doing so, you help ensure access for all.
February 2014 | Birdsboro Ice Climber article written for The Mercury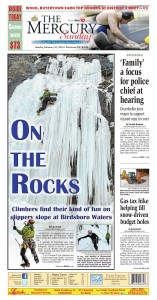 A local publication called The Mercury from Pottstown, PA wrote an article about us and the sport of ice climbing in it's online and print newspaper.  The article was released on Sunday, February 24, 2014 and featured local climbers / ice climbers Ted Coffelt, Josh Huntley, and Chris Acosta.
"I do it because it's an adventure and I really enjoy being outside"

Chris Acosta
Click here to read the full article.
February 2014 | Birdsboro Climbing Quarry gets Rebrand
Local climber and graphic designer Chad Campbell of C2D, created our new logo for the Birdsboro Climbing Quarry.  The logo portrays the local climbing community and incorporates a whimsical graphic referring the the quarry's nickname "The Bird".   This logo is planned to be used throughout our advertising efforts as well as being used on our new t-shirt designs to be sold at future climbing events like our annual Climb & Clean.  Check out the logo below and let us know what you think.

January 2014 | Birdsboro Climbing Quarry Featured in Slyfox Commercial
Local brewery, Sly Fox Brewing Company visited the Birdsboro Climbing Quarry to shoot a commercial for the unveiling of their new and innovative 360 CAN with Wide Open Flavor and Aroma.  The new beer can opens fully at the top of the can and provides a new way to enjoy Sly Fox's Helle's ale.  Check out the awesome video below:
August 2013 | Birdsboro Climbing Quarry 20th Anniversary
2013 marks twenty years of rock climbing at Birdsboro Climbing Quarry.  Jay McLear and Bob Perna ventured out to an old obscure quarry that had been closed for decades.  It was one of those" word of mouth" stories that local people knew about.  No one had considered using this abandoned pit for Rock Climbing.  When they visited there they were amazed to find a series of rock faces that would be well suited to bolting for Sport Climbing.  Within two years they had bolted around 25 climbs on the Reservoir side as well as on the other side of the Creek where Haines and Kibblehouse now has reopened quarrying.  Area development has continued to this day with four other Walls having been opened up and the number of routes now over 130.  Congratulation and thank you to all those who have worked and contributed to make Birdsboro Quarry a Regional Sport Climbing Area.
August 2013 | New & Improved Birdsboro Website is Launched!
Our new website is packed with information that the old site just didn't have.  The navigation has been improved and it is easier to get around the site.  The site features a forum area where climbers can go and post photos and video of their climbs as well as network and find climbing partners.  There's also a direct feed into local weather reports and a regularly updated version of the route guide.  All in all the new and improved birdsboro website is awesome!  Let us know what you think.
Web & graphic design by local climber, Chad Campbell | www.c2dcreative.com